Piranha has been named 2018's Best Strategic Digital Marketing Agency for Lancashire.
This prestigious title was awarded to Piranha at the 2018 UK Enterprise Awards. This award is much sought-after every year and is testament to the standard of work we've completed over the last 12 months.
We've been running marketing and advertising campaigns from the heart of Preston since way back in 2001. From traditional print to ultra-modern websites and even apps, there is little in our industry that we've yet to encounter.
Paul, one of Piranha's directors, said of the company's latest achievement:
"We know that successful marketing of all types needs strategy and planning. Piranha's experts approach each campaign in an intelligent way, maximising your return on investment."
An Award-Winning Agency
Piranha is a one-stop-shop for marketing of all kinds. Our in-house digital marketers, graphic designers and web developers work in tandem to complete each project.
Here are just a few of the services we provide on a daily basis: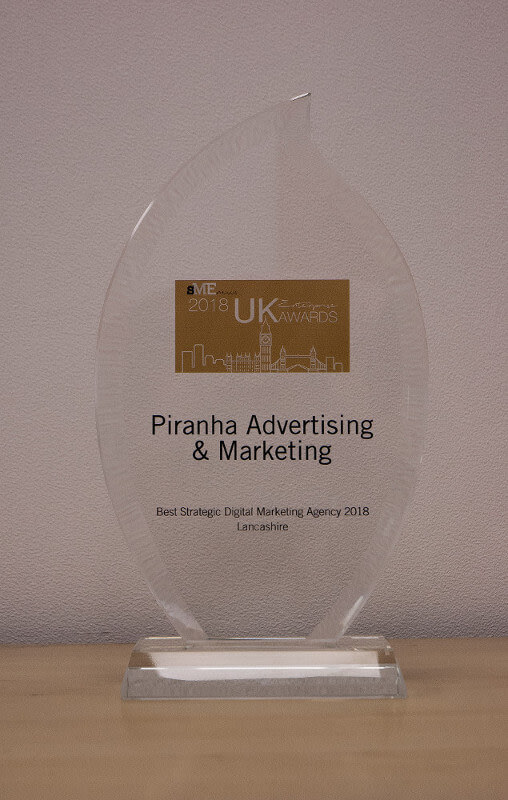 By offering this diverse range of services, we can provide real value for money.
Many of our clients have worked with us for several years. Why not book a meeting with one of our account directors to see how we can also help you?
Moving Forward
Piranha is proud to have won another award, and we can't wait to start working towards the next one!
Successful digital marketing requires real expertise to truly generate leads and new business. Make sure you hire the right agency to give your business the boost it deserves.
If you'd like the help of an award-winning agency, get in touch to discuss your business's requirements. Call the Piranha team on 01772 888331 today!