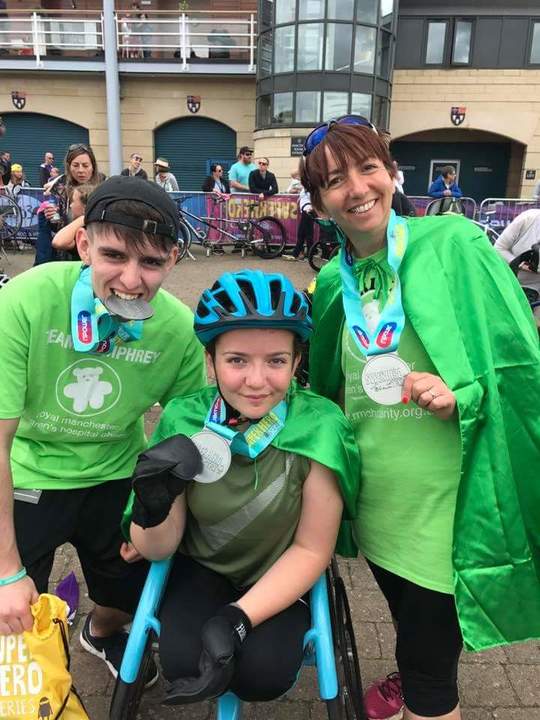 With more than 20 marketing professionals working in our head office, there is always something interesting going on! This month, our Digital Marketing Specialist Scott took part in a charity triathlon to help raise money for Manchester Children's Hospital.
Scott's sister Megan has spent a lot of time in hospital throughout her life and has received great care from Ward 78 at Manchester Children's Hospital. This hospital provides specialist healthcare to children in the Northwest, with specialities including oncology, haematology and orthopaedics.
As a family, they have raised money for this great cause but this time Megan wanted to raise the money herself, and what better way to do it than taking part in a triathlon!
Along with his mum and sister, Scott formed their own "Half Superhero Tri Team." On the day, they had to complete a 400m open water swim, 10k bike ride and 2.5k run. This is extremely challenging by anyone's standards and they have definitely earned their superhero status in our eyes!
Luckily, the weather stayed fine on the day although they did get a little bit wet during the swim! After completing the course, the team were awarded with a memento medal, goody bag and finisher's t-shirt.
Scott and his family managed to raise more than £530, which is more than double what they were aiming for. This is a fantastic amount and the money will no doubt help the hospital to support their young patients and families.
Don Fryer, Piranha's Director, said; "We are extremely proud of Scott for taking part in this charity triathlon. Manchester hospital provides much needed care to people in the local area and they need support now and in the future."